Here lies a compilation some of the greatest things we found on the internet this week that could totally be turned into world records. It's a testament to how easy it can be to turn the cool things you do into world records. We hope this inspires you to set some sweet records.
Largest Collection of Weapons Made Out of Paperclips
This is why some companies keep their supply closets locked.

via reddit.
Fastest Time to Create a Homemade Chewbacca Costume
This guy's directions are available online. He is one intense fanboy.

via GeekyTechNews.com
Most Embellished "Out of Order" Signs In a Gym
If all workout equipment looked like this the gym would be a lot more fun.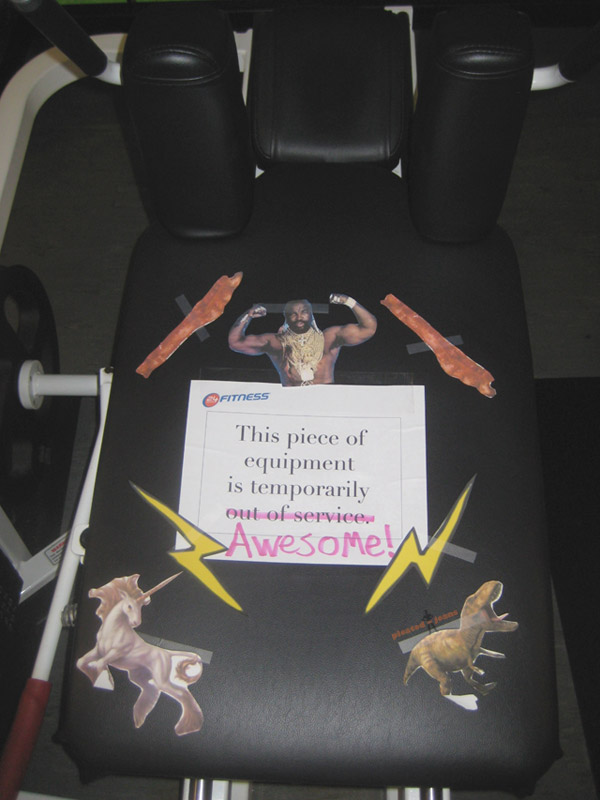 via pleated jeans.
Most Hedgehogs in a Bathtub
Currently one really, really cute one.
via Amy Vernon.
Most Book Related Wedding Decorations
Amazingly beautiful DIY wedding decorations made from books and pages of books.

via eephotography.
Three World Records Just Waiting to Be Set:
Most People in Chewbacca Costumes at a Wedding
Most Animals Sitting on Workout Equipment
Longest Time to Balance a Book on a Paperclip
Inspired yet? Set your world records at recordsetter.com/submit.